...although I am demonstrating with George.
OK, to make a flower with hearts in DS, weld them together like this, cut them out twice, and offset them:
(
if you don't have Cricut Design Studio you can adhere how many hearts you like at the bottom with a brad or eyelet--then fan them out
)
The one above is a silhouette heart from George--you can do regular (no feature keys) or silhouette or whatever you desire. You could layer the silhouette heart directly on top of the regular heart (both in the same welded configuration, then adhering the silhouette on top of the normal heart shape--making sure that the hearts are the same size to begin with). This technique is also the second way to make flowers dimensional. Find a cartridge that has flowers and the silhouette feature. Cut out one flower with the silhouette feature on and one flower cut with it off, both of the same size. Then adhere the silhouette flower on top of the regular flower. Use varying colors for more dimension. NOTE: You could also use the shadow of that same size of normal flower for a different effect.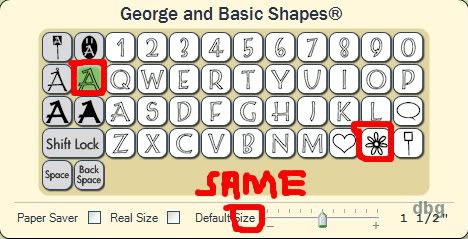 The last way is to find a flower you like, start at the one inch mark, and put the flower on the mat. Click on the tick mark just to the right of the sizing arrow (it will up the size by 1/8 of an inch), click on the image to place it on the mat again in its new size, and keep doing this until you get to 1 1/2 inches (or how many flowers, or to what size you want the largest flower). You can size the flowers up and down by clicking the sizing arrows on the bottom right of the set if you like.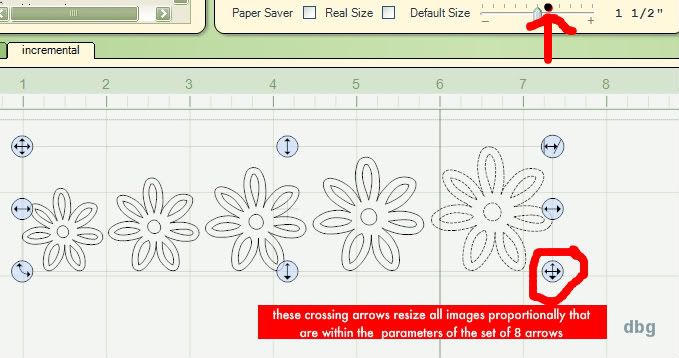 NOTE ON EMBOSSING FLOWERS: First of all, it doesn't matter what embossing folder you use. But, the smaller the flower the more dense of a pattern you will want. If there isn't much to the design, you won't see as much embossing on the flower. Also, frame patterns don't tend to work as well for the same reason. A nice flourish pattern or perhaps a brocade would do well. I've purchased flowers with all sorts of embossed designs on them & thought "I can do that". So, emboss away!
A proud member of
The Lime Light
, a charity-based design team. Click on over to see what we are doing.