OK, Chatterbox now has a brad maker, like Imaginisce. The process is quite different. With the Chatterbox version, you end up with a flat piece of paper or a photo (whichever you choose) on top of their brad, specially made/shaped for the brad of course. Also, in the starter kit you get punches that will punch out the paper perfectly for the brad--all three sizes of punches come in this kit. Here's what all it has:
-Three punches: 3/4-inch, 5/8-inch and 3/8-inch
-Twenty-five antique gold brad frames: six for 3/4-inch punch, nine for 5/8-inch punch and ten for 3/8-inch punch
-Thirty-two crystal clear epoxy stickers: eight 3/4-inch, ten 5/8-inch and fourteen 3/8-inch
-Thirty-two double-sided sticker rounds for attaching your images to the brads: eight 3/4-inch, ten 5/8-inch and fourteen 3/8-inch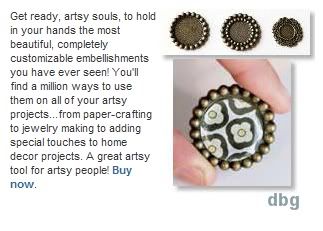 OK...these were obviously not made by the brad maker, I just wanted to show them to you. Chatterbox has always had the some of the best-looking embellishments & paper, so this is really no surprise.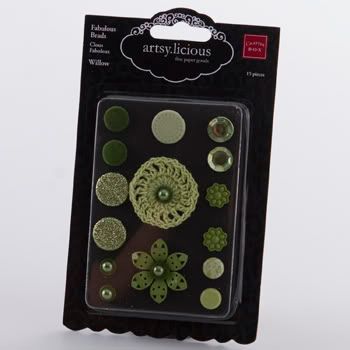 And they come in more colors than that.
----------------------------------
If anyone has tried both the Imaginisce and the Chatterbox versions of the brad maker, please let me know--I'd love it if you left a comment. I have the Imaginisce one (much more expensive, but also a different process & different looking brad) but haven't tried the Chatterbox one yet. For those who haven't seen it, here's the Imaginisce brad maker with some accessories: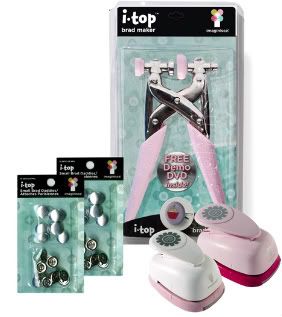 A proud member of
The Lime Light
, a charity-based design team. Click on over to see what we are doing.