I got a comment on one of my older posts that said she liked the cut file. It was gone from 4shared, and it's not on the computer I have now. So I have no copy. The pics she saw were screen shots taken way back when. I put together one a little different, but all from Accent Essentials. A couple of things--I stretched out the rounded-corner square a little bit more for each page. Translation? The corners, in this case, the top left and bottom left corners, are a tad off. A little bit of sanding will do if this bugs you.
If you are going to punch holes in it & put it on book rings, you are fine as the pages will never be 100% lined up & you won't even be able to tell. Also, their is an optional last page that you can use as backing if the paper you're using makes the edging flimsy. I'd use it just to make sure it stood the test of time.
One last thing. If you don't have something to use to punch out holes in the paper (or cardboard) you are using, put circles on the pages where you would want holes--you can adjust the size & location as you wish. Once you have decided where you want them on the first page, just press copy, and then paste on all the other pages--this will make sure the holes are all in the same location.
So here I've decided on the size & location of the holes I want:
...and then I press copy (after you have clicked the circles and they are highlighted by the blue arrows, as in the picture above) and paste on to any additional pages I have: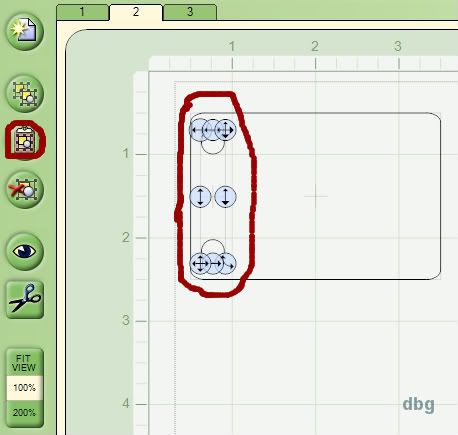 A proud member of
The Lime Light
, a charity-based design team. Click on over to see what we are doing.