I thought it was only fair to follow up with more teasing. I have wanted the Wacom Bamboo
Craft
Silver Tablet for as long as I have known about it, but since they aren't just randomly giving them away it looks like I will have to wait. Still, take a look at how much fun it would be to get one of these. Make sure you get the Bamboo
Craft
(there are a few different versions, some more conducive to digital scrapbooking and some are really just toys for kids I think) by Wacom.
Here is why it is "Ideal for Digital Scrapbooks": The Bamboo Craft's hands-on approach to digital image manipulation is fun and easy to learn. An included Scrapbook Kit will show you how to add hand-drawn embellishments to your favorite digital photos, or provide a personal touch to your scrapbook pages.
For precision work, you can use the included pen. When you use the pen, the screen will automatically recalibrate for more precise use. In your hands, the pen quickly becomes an all-purpose art tool. It features 512 levels of pressure sensitivity, allowing you to perform tasks ranging from fine handwriting to wide-brush painting. "
Here's what comes with it: First-Class Visual Editing Software
The tablet also comes with a full suite of visual editing software, including
Adobe Photoshop Elements
6.0,
Corel Painter Essentials
4.0, and
Nik Color Efex Pro
3.0 WE3--valued separately at several hundred dollars.
Bamboo Craft is compatible with Windows 2000, Windows Vista, Windows XP (Service Pack 2) and Mac OS X (10.3.9 or higher). It also requires a powered USB drive, a colored screen, and a CD/DVD drive.
What's in the Box
Bamboo Craft pen tablet, Bamboo Craft mouse, Bamboo Craft pen, pen stand, USB cable, Quick Start guide, installation CD (includes driver software and user's manual), software DVD, 3 replacement pen nibs, training DVD, scrapbooking CD, and scrapbooking guidebook.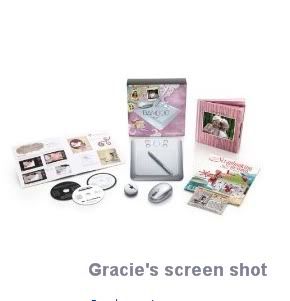 A proud member of
The Lime Light
, a charity-based design team. Click on over to see what we are doing.