UPDATE:
I have looked around and other blogs still have the clear copy of their handbooks available--either the pic is on their blog or you can go to 4shared and get it. So just Google it & you'll hopefully be able to find somewhere with the clear version so that you can a)see if it's a cart you really want, or b)see what is on what feature key so that you can cut the right thing.
---------------------------
Apparently someone from Provo Craft made a complaint to the service I use, 4shared, and now they (4shared) have restricted those files/handbooks so that they can't be downloaded. Here's the email I received:
Hello,
We received a complaint that some files in your account are breaking our
terms of use and contain illegal or abusive information. These files were
moved to the 'Abuse' folder and access to them was disabled.
You can remove those files so they will not consume your storage space.
Thank you!
Best regards,
4shared Support Team
and here's a screen shot of what they (4shared) did with the files:
Apparently Provo Craft is cracking down, very interesting that they would go straight to the service I use and not say anything to me. My email address is readily available and one can leave a comment any time they wish. I actually was letting someone else use my account to download those files, so my apologies to her.
PC always does things strangely. Note this email one of my friends forwarded to me: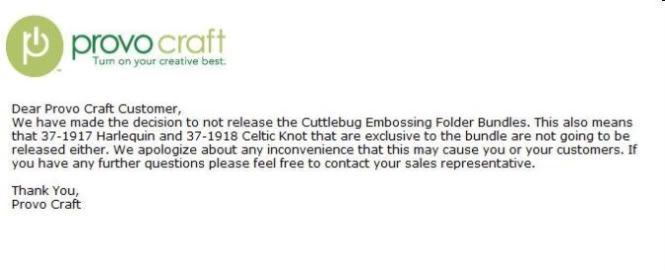 Apparently the above email is because they are going to be exclusive to HSN. I am not sure exactly when that was sent out because this was sent to me as an attachment.
So there you go....draw your own conclusions.
---------------------

A proud member of
The Lime Light
, a charity-based design team. Click on over to see what we are doing.