First, there's this tennis ball size can of Prima Flowers that I bought not too long ago that comes with different size
and
different style flowers (diff # of petals, diff shape of petals). The only color I saw was an off white. Here's some pics--some I've inked the edges too & stacked, fyi: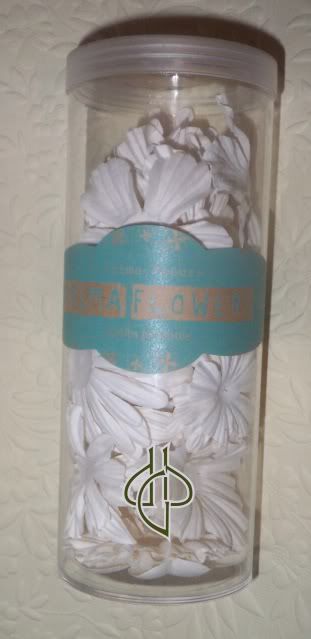 Use your 40% or 50% off coupon & you'll get a great deal on these flowers. There's at least 40 if not 50 paper flowers in the can, and they are fairly thick as well. I am very impressed. Plus, if you get off white you can ink the edges like I did, spray Glimmer Mist (see previous post for info on how to make your own), etc. for a nice effect. Of course, you could do the same with any color. I just like how easy it is with white flowers, because you can basically turn them in to whatever you want through Glimmer Mist & ink. With flowers that already have color, you usually have to stick to certain colors to enhance them (which is fine depending on the project).
OK, the second thing I was playing with was some oil pastel crayons (which are about $5 for a package of 25)& Copic marker #0 (a little over $4), which I used for blending. Below you will see a flourish I stamped in pink, then I colored it with different oil crayons. The first pic is just the flourish with some oil crayons colored in; the second is with some Copic blending; and the third is with more Copic blending. The more you use, the more it blends. I also included some pics of the products used.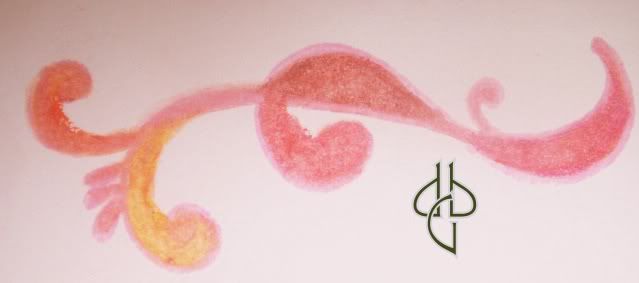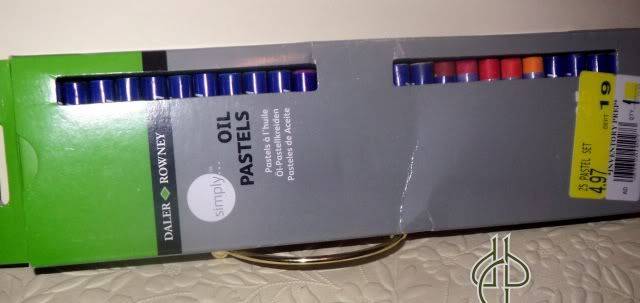 To complete my post full of "guess what crafts I played with today", I happened to have some of the thicker metal pieces that different crafting companies offer. The pic isn't that great, but I do want you to see what you can do if you put even some of the thicker metals in Cuttlebug embossing folders & roll them through three or four times.
---------------------

A proud member of
The Lime Light
, a charity-based design team. Click on over to see what we are doing.