---UPDATE---
Here's some info from Julie of
Kitchen Floor Creations
(thank you so much Julie!):
Hiya Gracie! I received that email from Michael's, too. However, I found this website (http://www.retailmenot.com/view/michaels.com) and I get all my Michael's coupons off there because they usually have 50% off ones on there all the time. The last time I was there, the cashier said they would take two coupons, as long as the coupons were not the same. (So, you could use both a 50% off and a 40% off coupon if you were buying two items, and they would take 50% off the most expensive one, and then 40% off the less expensive one.) HTH :)
---end of update---
I heard that Michaels wasn't going to place next week's ad in the paper. I'm not sure if it's next week only that they are going to do this or what. So below is the latest coupon, I'll post more info if and when I get it.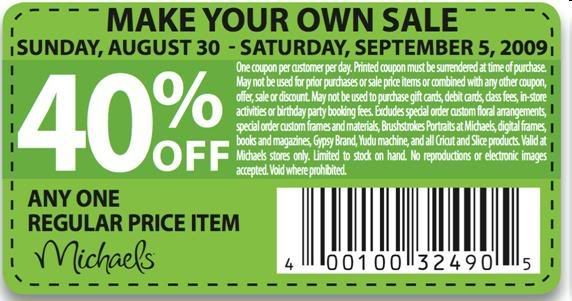 ---------------------

A proud member of
The Lime Light
, a charity-based design team. Click on over to see what we are doing.