The Letterpress combo kit contains everything you need to begin letterpress printing right away. Inside the combo kit you will receive the following: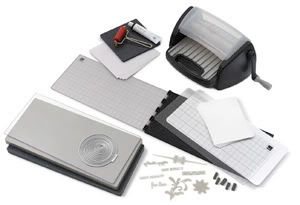 •Epic Six Letterpress and Die-cutting Tool
•Letterpress
•Clear Packing Mat with Grid
•Paper Placement Guides
•Ink Base
•Brayer
•Ten A2 flat cards
•Nine Printing Plates
•Tube of Black Ink
•Circle Cutting Dies
$149.99
The entire L product line will arrive in stores this fall. Click
HERE
to go to the Lifestyle Crafts blog. You'll see just how incredible this kit is--you are
letterpress printing
.
How to use the L Letterpress
1.Open the L Letterpress and place an adhesive-backed printing plate on the clear lid.
2.Ink the printing plate evenly with the brayer tool.
3.Place paper in desired location on base of letterpress tool.
Use registration grid and Paper Placement Guides for greater accuracy and alignment.
4.Close lid and roll L Letterpress through Epic tool.
For a deeper impression, add additional packing sheets.
-------------------

A proud member of
The Lime Light
, a charity-based design team. Click on over to see what we are doing.