If you don't know what
Pearl Ex
is, you are in for a treat. A package of 12 at M's is $25, so use your half off coupon like I did. I got 12 small jars (that go a LONG way since they are pigment) of different colors & types of powder (some more refined).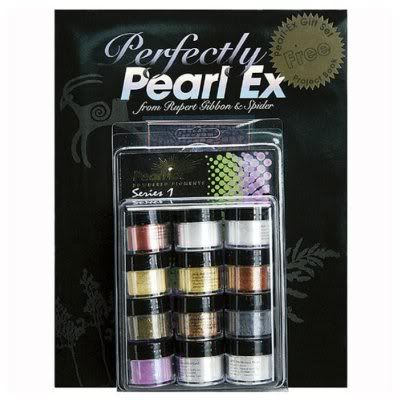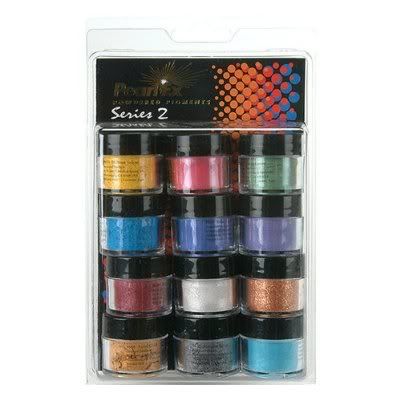 Here's what one vendor had to say about
Pearl Ex
:
"Pearl Ex is made from mica, giving it a metallic glisten. You can add it to a gloss medium or clear glue like
Diamond Glaze
or
PearlEx Varnish
and use it like paint. You can brush it over images stamped in embossing ink and seal it with hairspray or fixative. It adds wonderful color and shimmer to polymer clay, as well. Interference colors provide an iridescent color and especially striking over a dark surface."
So far I have used Pearl Ex with two mediums. The first was a Versamark Pen. A Versamark pen is a watermarking pen that you can do SO much with. What you do is dip the pen in the pigment & draw. Here's some doodling/experimenting I did recently, some of you will recognize the Cuttlebug embossing: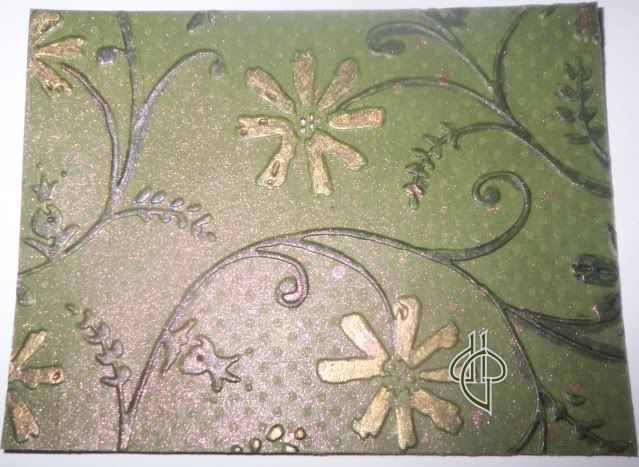 OK, sit down folks, because the second thing that I made with Pearl Ex is
GLIMMER MIST
. Yes, I said
GLIMMER MIST
. Imagine being able to mix your own colors of this popular scrapbooking item. The only other things you need are a mister (you can buy
Mini-Misters
in packs of 3), isopropyl alcohol, and water. Since it was my friend over at
Black Diamond
who came up with the recipe, I feel it's only fair to direct you to her blog for more details on the recipe. The middle pic above has some of my home made Glimmer Mist on it. Please leave a comment on Black Diamond's blog letting her know you appreciate the time she put in to discovering and fine tuning the formula for home made Glimmer Mist.
Incidentally, Pearl Ex now has
stamp pads
.
---------------------

A proud member of
The Lime Light
, a charity-based design team. Click on over to see what we are doing.