Everybody is talking about the Cricut MB poster who posted this--saw it at a Michaels in California if I understand correctly. You have to buy the pink CE to get the cart--interesting, all they did was change the color & they're starting a frenzy. On tools under $50 I get it. This one, I have to say, surprised me. But if you don't have the CE, I would recommend this depending on the price.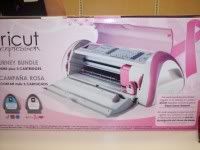 INTERESTING NOTE: THERE ARE ACTUALLY OVER 100 CRICUT CARTRIDGES THAT HAVE BEEN PRODUCED SINCE THE CRICUT WAS LAUNCHED. DON'T BELIEVE ME?
CLICK HERE TO CHECK IT OUT
.
---------------------

A proud member of
The Lime Light
, a charity-based design team. Click on over to see what we are doing.