I was asked by a faithful reader if I'd do a tutorial on how to turn a word in to a link on a blog post. Most people, including myself, use the word "HERE"--for instance, "Click
HERE
to go to the blog about job hunting." Here's how you do it:
First, highlight the word or group of words that you want to turn in to a link. Then click on the icon at the top of the post template that looks like a globe with a chain link--it's the one after the T with the color block: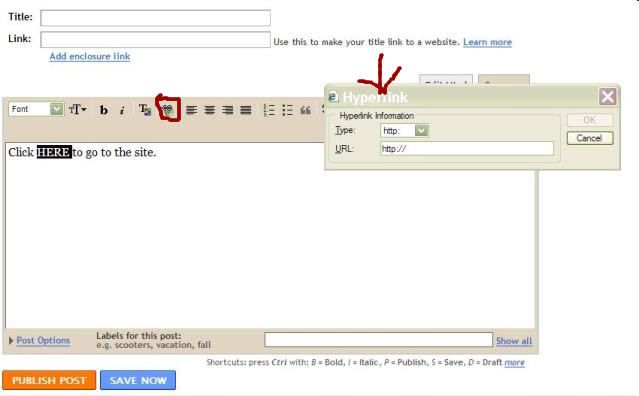 You'll have a little box come up, and in that box you
enter the url of the website that you want to direct your readers to.
NOTE: if you get a message about scripted windows, you can just click"temporarily allow scripted windows" and then click on the "link" icon again.
Once you have entered the URL in the "Hyperlink" box, click on "OK". The word that you turned in to a link will still be highlighted, but you are basically finished (I just click on the screen to remove the highlight). The word that is now a link to a website will be underlined & a different color than the rest of the text: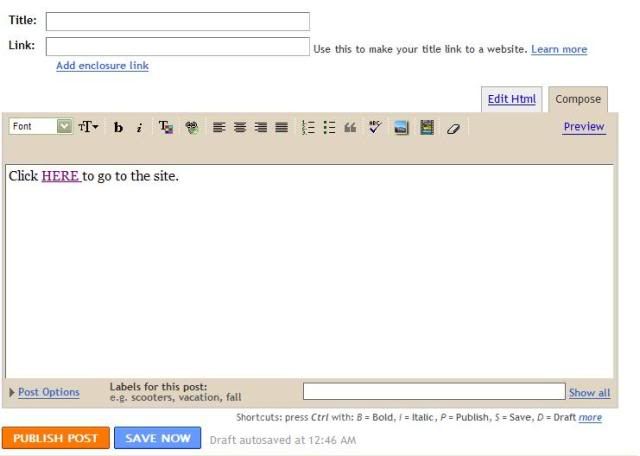 TURNING YOUR BLOG POST TITLE IN TO A LINK
:
It's really easy. There's a box below the Title box on your post template that says "Link". Just enter a URL there (start with the http://).
If you don't have a box that says "Link" below your "Title" box, here's what you need to do:
Click on "Settings", and then "Formatting":

Scroll down until you see this:

Make sure you have chosen "Yes", and then click "Save" at the bottom of the screen. You will now always see a "Link" box below the "Title" box when you start or edit a post.
A proud member of
The Lime Light
, a charity-based design team. Click on over to see what we are doing.