I finally made the top 50 on the number one scrapbook ranking site.
There are a lot of sites that rank scrapbooking sites--some are just for blogs, some are for digital--this one includes all scrapbooking sites. Here's my blog listing on the site itself.
Notice the ad directly below my ranking: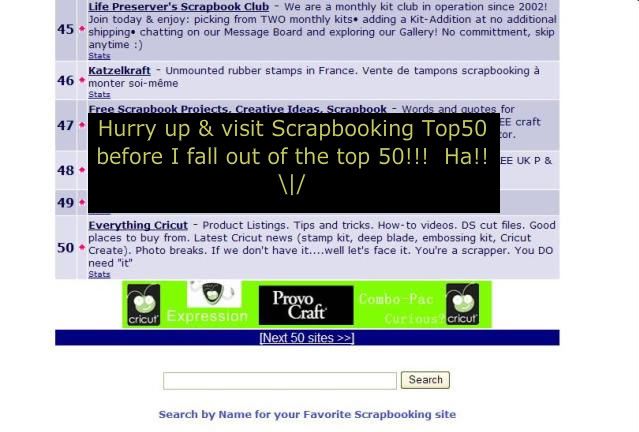 Here's a blurb from the site itself; you can click on the title if you want to check out this site & add your own blog to the mix. Once you realize how big they are you'll realize why I'm giddy today: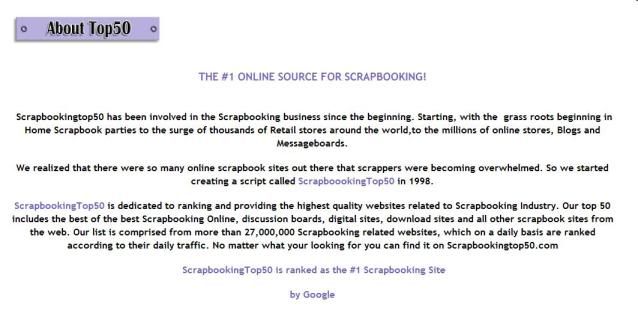 In case you can't read the screen shot:
"THE #1 ONLINE SOURCE FOR SCRAPBOOKING! Scrapbookingtop50 has been involved in the Scrapbooking business since the beginning. Starting, with the grass roots beginning in Home Scrapbook parties to the surge of
thousands of Retail stores around the world,to the millions of online stores, Blogs and Messageboards
.
We realized that there were so many online scrapbook sites out there that scrappers were becoming overwhelmed. So we started
creating
a script called ScrapboookingTop50
in 1998.
ScrapbookingTop50 is dedicated to ranking and providing the highest quality websites related to Scrapbooking Industry. Our top 50 includes the best of the best Scrapbooking Online, discussion boards, digital sites, download sites and all other scrapbook sites from the web.
Our list is comprised from more than 27,000,000 Scrapbooking related websites
, which on a daily basis are ranked according to their daily traffic. No matter what your looking for you can find it on Scrapbookingtop50.com.
ScrapbookingTop50 is ranked as the #1 Scrapbooking Site by Google."
Not sure how long I'll be ranked this high, so it was nice while it lasted!
THANK YOU TO ALL OF YOU FOR VISITING MY BLOG, YOU ARE WHY I AM IN THE TOP 50.
A proud member of
The Lime Light
, a charity-based design team. Click on over to see what we are doing.