I've had some questions & comments about the Glimmer Mist I have been using. It is from a company called Tattered Angels. It comes in two ounce spray bottles, and there are many colors. Here is a pic of one I own called Yellow Daisy: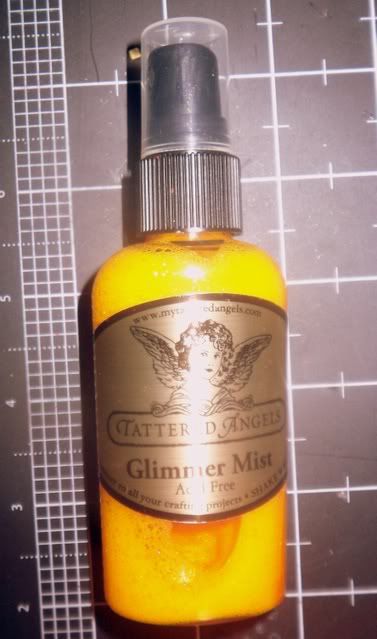 For the darker cardstocks, it adds a golden shimmery touch. For the lighter cardstocks, it turns them a yellowish shade & has the golden shimmer as well. But that is just for this particular shade, others I'm sure differ.
Here is a picture of a card I made that has one of the layers (the one with the word "Thank You") sprayed with Glimmer Mist Yellow Daisy. I'm showing it from different angles so hopefully you can get an idea of what the Glimmer Mist looks like. YOU WILL LOVE THIS PRODUCT!!!!!!!!!!!!
On the card above I used K & Co's Blue Awning collection (paper, flowers, tag pad); the punch is Martha Stewart Checkerboard that I got from Michaels (with my 40% off coupon, I might add). Actually, it was a Hobby Lobby coupon that they honored since I couldn't find a Michael's one for that week!!
A Proud member of
The Lime Light
. Click on over to see what we are doing.