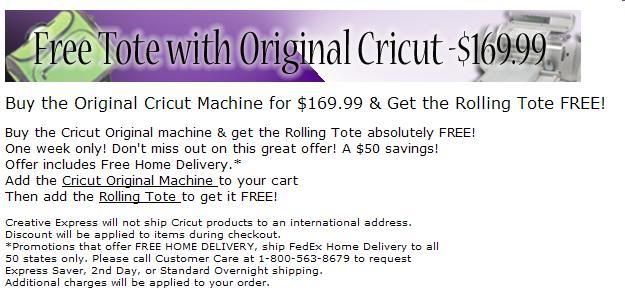 This is a heavy- duty tote with a compartment on top especially for the Cricut and another on the bottom that could technically fit another Cricut. When you open up the front, there's compartments for paper & supplies on the inside of the flap. There's also two side pockets for your stuff. It has both a regular handle & one that extends so that you can roll it through the airport or to the next crop. This is a good deal considering you don't pay shipping and likely won't pay tax (I think they only charge tax in Utah). The tote was $99 when it first came out, although the ad says it is a "$50 savings" so I guess they had it cheaper. I still see it at Michaels for the higher price (shocker).
Here is another item you may want to make note of that CX is doing:
Yep--they'll price match. What this means is
a)save your ads
b)you don't have to get up at...well not go to sleep the night before black Friday (commonly known as Thanksgiving) to get in line for that fantastic deal. Make sure you follow their instructions so you can be "first in line" there though
c)if you do miss out on a deal in an ad, this is your second chance
A Proud member of
The Lime Light
. Click on over to see what we are doing.