I got this from Kim (who owns Cutters Creek) who had it on her blog (click the title to go to her blog). Here is the info with a pic:
(per Kim's post)
"This is a new and fantastic product. They are tiny little flowers and they are so perfect for card makers and scrapbookers! I am now selling this at
Cutters Creek
and the ladies seem to love it already. Here is a little blurb from the Flower Soft site: Flower Soft is the most exciting and versatile craft product for years. This is what customers all over England have said to us when we demonstrate this simple and effective product. It can make fantastic realistic miniature flowers and plants in minutes, which can then be used to decorate your cards, scrap pages, presents, pictures, eggs, dolls houses and much more. Not only does it create flowers but is also creates a floral effect on text, borders and designs. Use with peel offs stamps or print from your PC. It's so simple; all you need is PVA glue and imagination! Even the kids love it. Sold in 30ml pots a little goes a long way. So run over to my store and check it out! As always, all orders over $20.00, shipping is free!! "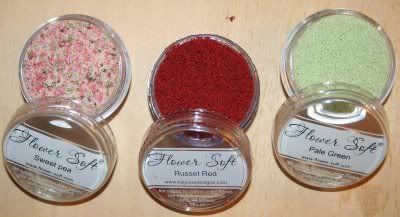 A Proud member of
The Lime Light
. Click on over to see what we are doing.