I posted a site on an earlier blog post to help those who wanted to change the colors on their blog page (I don't care for most of the colors in the selection blogger offers) but I found another source for color codes, so I thought I'd post another tutorial.
To change the colors to something not offered by blogger, you start out the same way--you click on "Customize" in the top right hand corner of your blog, then go to the "Layout" tab and choose "Fonts and Colors"
Decide which color you want to change

Now comes the fun part. Click on the title of the post or click
HERE
to go to the Sherwin Williams Visualizer (it takes a bit to load this page, FYI). You will need to have the "Sherwin Williams Visualizer" open in a separate screen in order to facilitate the process. The screen will look like this:
Click "Explore Colors" in the upper right hand corner; it will give you two choices, click on "interior colors". The screen you are on should look like this: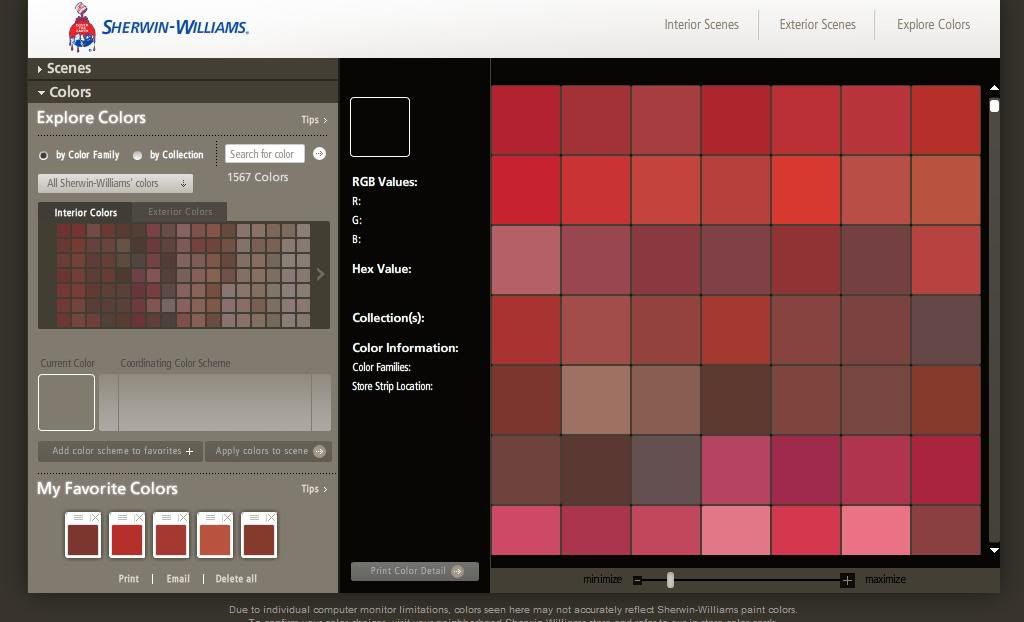 Choices, choices, choices!! Do you want to stick with the colors on that page, or do you want to go to a different color scheme? Click on "All Sherwin Williams Colors" and it will give you a choice of which color scheme (reds, greens, blues) to go to.
Once you are on the color scheme you want to choose from, click the color you like. It will appear on the left hand side of the screen, along with Sherwin Williams' coordinating colors. Next is the important step: getting the Hex code. It's a 6 digit code with a "#" in front of it. Look at the screen shot below to see the exact location of the code.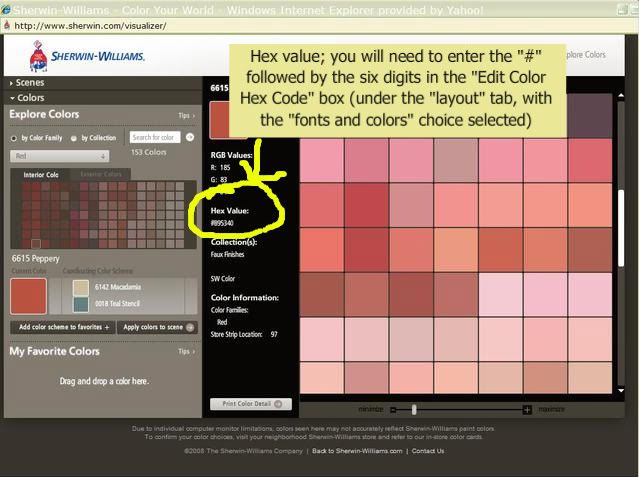 Here's a close up:

Now go back to your blog, where you've got the "Layout" tab clicked, and you are in the fonts and colors category. Enter the pound side followed by the six digit code in the box on the right, which says "Edit Color Hex Code" -- make sure you have the item (text, blog title, etc.) highlighted (by highlighted I mean that it has that blue rectangular box around it) that you want to change the color for.

After you have entered the code, press enter. The color will show up in the box next to the item you are changing the color for.
Make sure you click "Save Changes" when you are done.
Have fun.....the possibilities are really limitless as far as colors for your blog are concerned.