...including fancy word books that, ahem,
don't have any words
. They are tiered like the wordbooks you've seen, but instead of letters at the edge, the edge is some "fancy" pattern. It could have scallops, flowers, etc. I think Maya Road started this trend. So I decide I want my "fancy word book" to be even more different. I start with shapes that were scallopped on all four edges. Those shapes also had dots, or holes patterned in a square shape in the middle. Then I added various edges to the six page book. Here's the first page: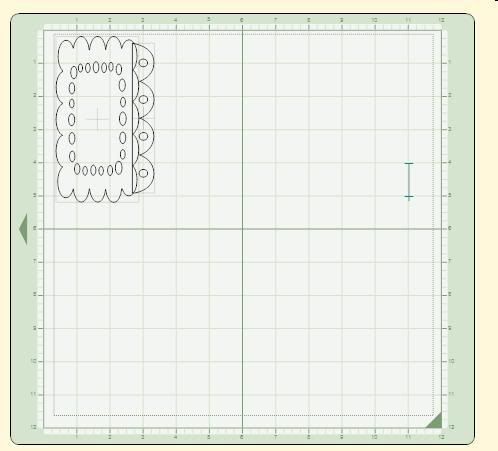 Here's what the entire book looks like in color, as in the welding feature wasn't checked yet (except a couple of tiny pieces); also, I hadn't decided on a page six at this point so you only see five pages:
I also made "base pieces" -- each of the six pages has a corresponding base piece to put under it. The base piece just doesn't have the holes (this would be the holes in the square pattern in the middle) in it that the top pieces do. Here are the base pieces, already in welding form:
If you like your projects to fit together neat & clean, this one isn't for you. The scallops at the left edge fit together fairly well, but the top & bottom scallops do not. The top and bottom scallops pretty much rotate with the scallops on the next page. This is because I used the same shape & just widened it for each page -- thus stretching out the scallops. I liked the effect, but others may not.
I used Mini Monograms & Accent Essentials. If you don't have those carts, go to
http://just-a-scrappin.blogspot.com/
for fancy wordbooks made with George. If you do want the cut file, just click on the title to this post.
I've glued the top & base pieces together but haven't decorated yet. Since it isn't bound, and I can't find the camera to take another picture with things corrected, the pages aren't lined up properly (hence some pages looking a bit like they need to be pulled up to even things out). Here 'tis: